Welcome to the new JCPA newsletter, JCPActs.  We believe this is an exciting departure from our past e-mails and can be more useful in getting you the information you need to know what is happening in the JCPA, the country, and Israel.  We'll continue to share the news stories and interesting links you received in Insider (also look for them throughout the week on Facebook and Twitter), but JCPActs will feature new content as well.  Broken into three sections, JCPActs will reflect what stories we're most focused on each week through articles highlighting our activities, partners, advocacy, positions, statements and more.  Each story will include links for you to take action, get involved, or learn more.  In "Happening Now", we'll share links to the news and resources that we're following to prepare you and us for the events ahead, and in "In the News," you can read our latest statements and reporting of our work from local and national papers.  Taken together, it represents the arc of our advocacy to repair the world and hopefully provides more opportunities for you to join us in this important work. 


Last week, nearly 30 JCRC staff and lay leaders from across the country participated in a conference call with Center for Budget and Policy Priorities Legislative Director, Ellen Nissenbaum.  Ms. Nissenbaum, a highly respected and sought-after expert on policy analysis and advocacy educated call participants on the major policy battles that will be fought at the state and national levels in 2011.  Chief among them were the deficit and structural threats to the budget process that will have a huge impact on social safety net programs ranging from SNAP (food stamps) to healthcare.  With Nissenbaum's involvement, the JCPA and JCRC staff began crafting advocacy strategies for each of their communities in the coming year.

The call was a part of the JCPA Confronting Poverty Campaign's Poverty Clusters program. The program encompasses four working groups in the areas of hunger, affordable housing, healthcare and education, and provides access to expert speakers, a platform for best practice sharing, and a connection to JCPA national activities for JCRC professionals and lay leaders on key policy.

The next JCPA Clusters Call will be held on Wednesday, February 16 at 3pm ET.  This call will focus on healthcare implementation and opportunities and challenges for communities as we move forward.  The call-in number is 1-218-936-4700, access code 379527#.  If you would like to participate in this call, please RSVP to Elana Fox, efox@thejcpa.org with your name and email address.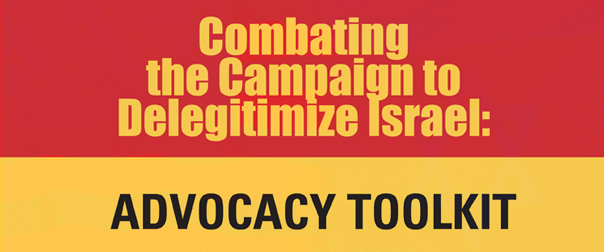 Over one thousand members of the Miami-Dade community, including members of Congress, professors, and Israeli officials, met to discuss and learn about new tools for fighting the movement to undermine Israel's legitimacy, including through boycotts, divestment, and sanctions (referred to as BDS).  The gathering, a Summit on Combating the Campaign to Delegitimize Israel, was hosted by the Jewish Community Relations Council and Jewish Federation of Greater Miami and featured Representatives Debbie Wasserman Schultz (D-FL), Steve Chabot (R-OH) and Ileana Ros-Lehtinen (R-FL)[by video], Israeli Ambassador to the US Michael Oren, Natan Sharansky, Harvard law professor Alan Dershowitz, Canadian MP Irwin Cotler, Rabbi David Saperstein and others.

JCPA Senior Vice President Martin Raffel was on hand to moderate one of the sessions on how communities can best respond.  As more and more communities are faced with challenges to Israel's legitimacy, the JCPA has partnered with the Jewish Federations of North America for an initiative, which Raffel will direct, called the Israel Action Network (IAN).  IAN will provide resources and connect communities in order to organize rapid responses to delegitimization situations requiring immediate attention as well as to take preventative measures.    

January 25, 2011
USDA Secretary Praises JCPA: In an op-ed in the JTA, USDA Secretary Vilsack credits the leadership of the Jewish community, and the JCPA, for working pass the Child Nutrition Reauthorization and ensure healthy meals for kids. 
---
Civility a Priority for All Faiths: The Religion News Service reports on efforts by JCPA and other religious groups to avoid "negative, fear-based rhetoric".  
---
New Toolkit to Fight BDS: The JCPA and other Jewish groups are developing new tools to work with communities and stop the delegitimization of Israel, reports JTA.  
State of the Union: At tonight's State of the Union address, President Obama is expected to announce a 5-year freeze on non-defense spending. 
---
Southern Sudan: As Southern Sudan awaits the official results from the recent referendum on independence, plans for the new state are already beginning, starting with a new name. 
---
UN Resolutions on Israel: Aaron David Miller, who spoke to the JCPA in June, says only direct talks will produce a Palestinian state, and focusing on UN resolutions will only hurt.  
---
Plenum Speakers: Israeli Ambassador Oren, Peter Beinart, David Saperstein, former CIA Director James Woolsey and more.  See who is speaking at our annual Plenum and sign up!  
The Jewish Council for Public Affairs (JCPA) is the united voice of the organized Jewish community.

For more than sixty years, the JCPA has identified issues, formulated policy, developed strategies and programs, and given expression to a strongly united Jewish communal voice. JCPA's has an unparalleled capacity to mobilize grassroots activism, through our network of 14 national and 125 local member agencies. The JCPA serves as a catalyst that heightens community awareness, encourages civic and social involvement, and deliberates key issues of importance to the Jewish community.